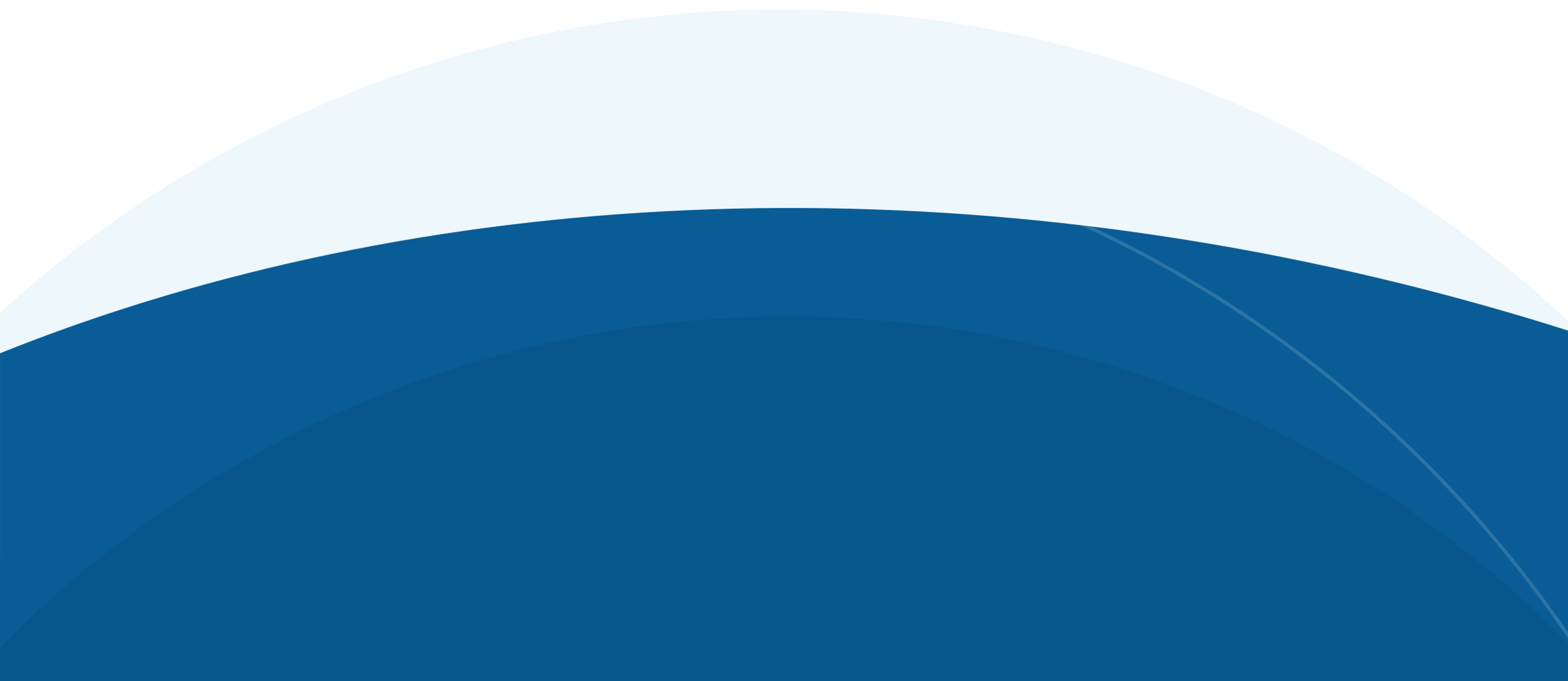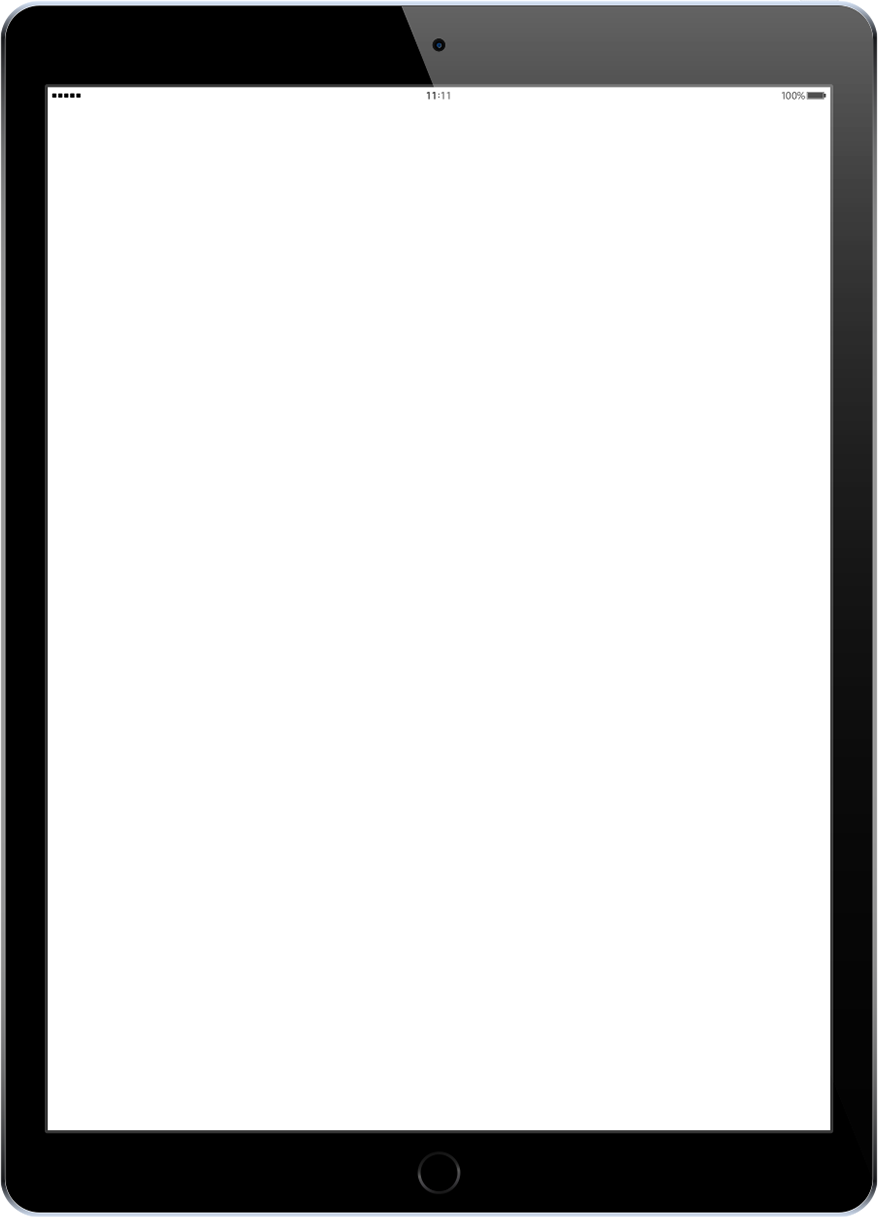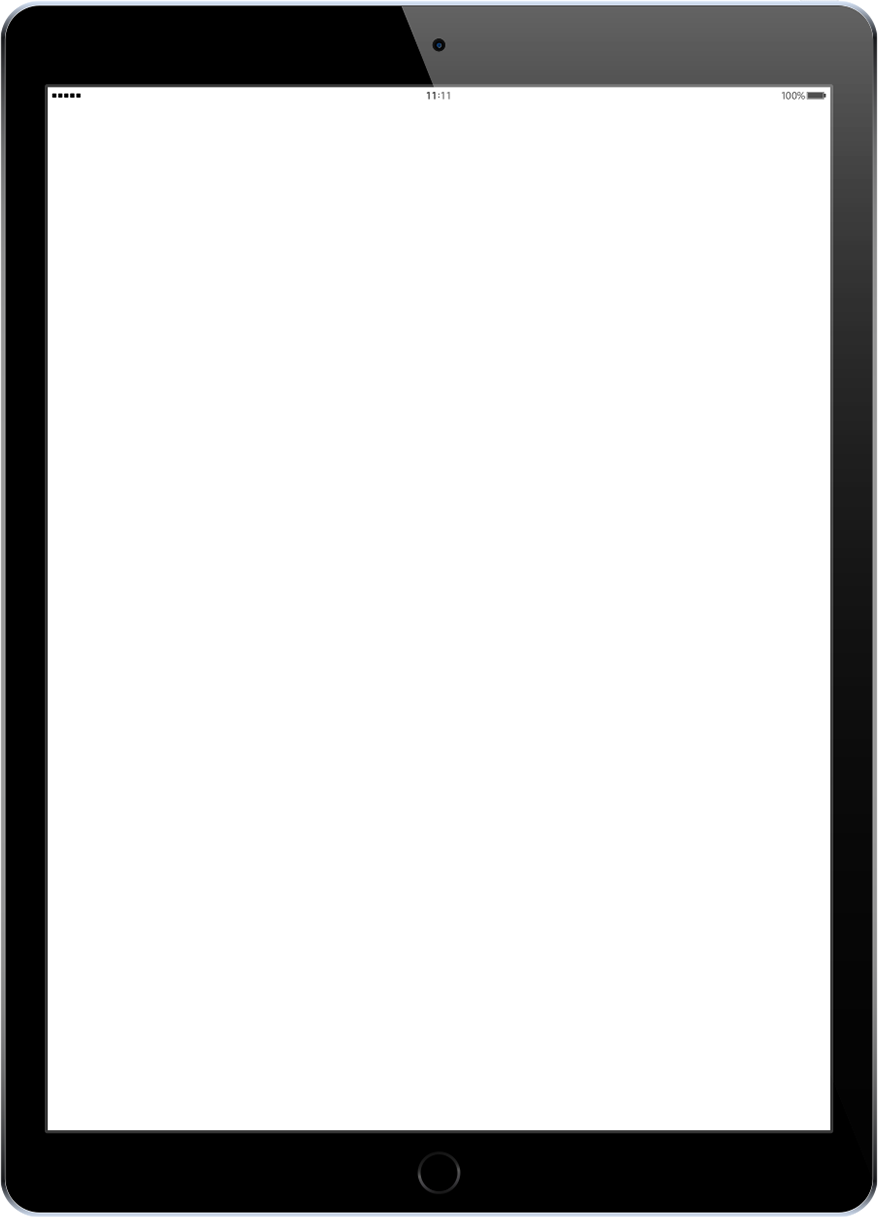 Board of Directors
DUCA is governed by a Board of Directors (the "Board") elected by our owners – the DUCA Members who bank with us. DUCA's Board, comprised of nine Directors, elected to three-year terms, is your voice for how DUCA is governed.
The Board is responsible for ensuring the Credit Union is operated in a safe and prudent manner and adheres to standards of sound business and financial practices. In fulfilling its responsibilities, the Board ensures the Credit Union is operating in accordance with co-operative principles.
The Board carries out its duties by establishing, communicating, and monitoring the Credit Union's adherence to its:
Corporate Values
Business philosophy and strategic direction
Financial soundness and performance
Quality of management
Risk appetite with respect to the management of key inherent financial and operating risks, and strategic risks
To fulfil this responsibility, the Board:
Exercises sound, unbiased judgment and decision making
Has appropriate qualifications and competencies individually and collectively that meet the competency requirements established in the Ontario Credit Unions and Caisses Populaires Act, 1994, S.O. 1994, c. 11 ("the Act")
Diligently oversees risk management and control functions that are robust and independent of operating functions
Follows good governance practices
Seeks third party advice on matters for which Directors do not have direct knowledge and/or expertise
Directors
Committees
In accordance with the Credit Union's by-laws, the Board of Directors established the following Committees in 2019:

View Director Compensation 2019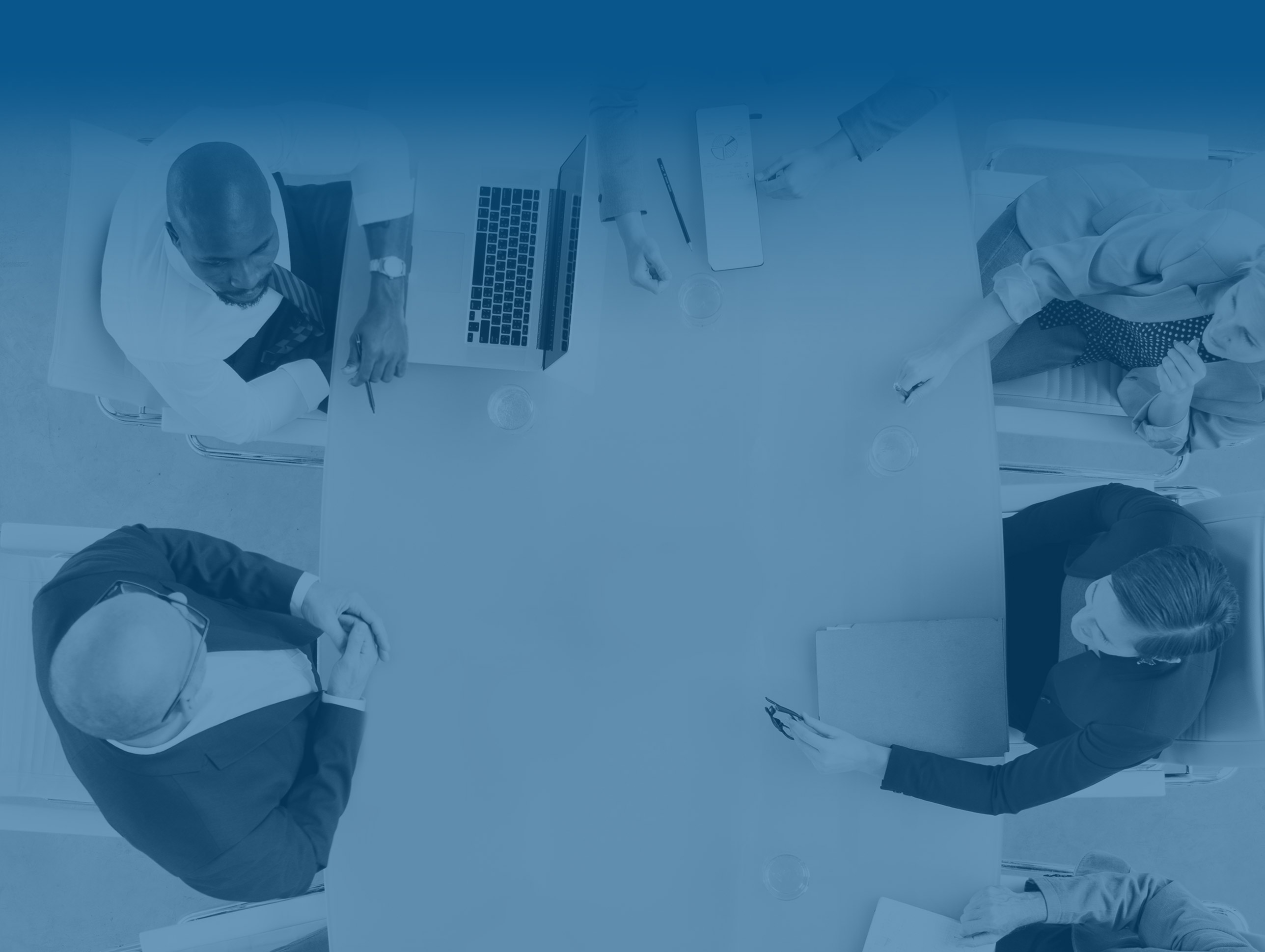 Helping our members
to do more
with their money
Business and Community Highlights
Do More
2019 has been a year of action for DUCA. As we've grown, we've also kept up our investments in people, processes, technology, and we've expanded the ways we serve our Members.
The 65th year of DUCA's operation was another remarkable chapter in your Credit Union's growth story and DUCA is benefiting from ongoing investment in the business. DUCA's Membership has increased to just over 75,000 Members and total assets exceed $4 billion – a 20% increase from 2018.
We celebrate these successes and continue to do more. Our growth reflects the value that we bring to our Members every day. We are committed to delivering the DUCA Difference to our Members through our personal approach to service and advice, no-fee banking, great rates on mortgages and deposits, and profit sharing. We are also committed to delivering financial care to our Members through 'high-touch' / 'high-tech' business and service processes, that are easy to use and comfortable.
In short, we remain focused on doing all we can to help our Members do more, be more, and achieve more with their money and their lives.
The subsequent sections of this report will provide you with more details on how DUCA is continually changing and growing to benefit more and more Ontarians who have opted to experience the DUCA difference.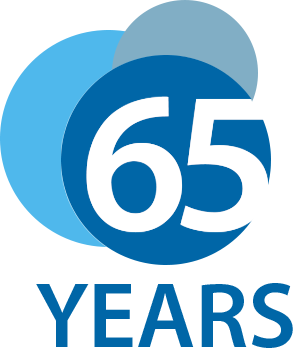 Growing and Diversifying
We constantly strive to be more helpful to an ever increasing number of Members. This involves developing new products, building new distribution channels, improving the way we do business, and playing a bigger role in the communities in which we serve.
In 2019, we continued to broaden DUCA's reach in order to help more and more people and businesses benefit from the value and service that is makes up the DUCA difference.
In keeping with our 'high touch' and 'high tech' philosophy, we've successfully combined the use of digital advertising to reach audiences seeking a better banking relationship with the personal touch of our branches, Call Centre, Small Business and Wealth Advisors, and our Mobile Mortgage Specialists.
For example, over 1,600 new Members who live outside of the immediate area of our branches were onboarded by our Member Connect call centre team. These Members were attracted to DUCA's savings and mortgage products by our radio and online advertising.
Similarly, our Member Connect team has generated over $128 million net in deposits and $17 million net in mortgages. This is in addition to their work providing service to our Members making use of telephone banking for their transactions.
Our Mobile Mortgage Specialist team has also become popular with our Members, increasing the number of mortgages originated by $91 million in just one year. This is not entirely surprising as having a mortgage expert meet with you at a time and location that is convenient for you is a big draw in this increasingly time-starved world.
We're very proud of the 'high touch' connection that we've been developing in the communities in which we serve. Once the spring and summer months hit, our calendars here at DUCA fill up with all kinds of community events – home shows, rib fests, community fairs and parades, and charity golf tournaments to name but a few. These events are a tremendous opportunity for us to make connections with people in our communities, and to spread the word about our great Credit Union and all that we offer.
Our employees do an incredible job representing DUCA at these events – speaking proudly and passionately about the "DUCA difference" and having some fun as they help prospective Members "spin the wheel" to win money that will get them started as a DUCA Member. In fact, these events help us attract many new Members.
These events allow us to showcase the warmth, friendliness and sense of community that makes DUCA so great. It is a real joy to get to share our energy with our broader communities, and to help them see what a special place DUCA really is.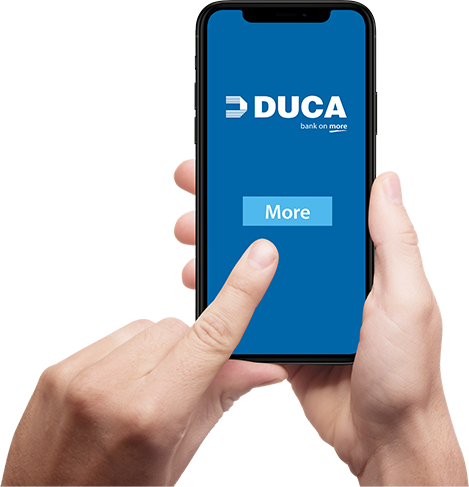 Strengthening Our Processes and Technology
In 2019, DUCA focused on enhancing its digital as well as physical infrastructure in keeping with our 'high touch' and 'high tech' approach.
The announcements of DUCA's selection of Fiserv's DNA banking system and ASAPP's account opening and Member onboarding solution signaled our next step in evolving the technology foundation of the Credit Union.
Implemented in 2020, our new technology infrastructure and related business processes will make it easier for DUCA to serve our Members and for our Members to do business with DUCA. More efficient technology will also free up time for Member-facing staff to have deeper and more meaningful conversations with Members – to truly help them do more, be more and achieve more with their money and their lives.
It will also create new possibilities and options for how Members interact with DUCA – giving them the anywhere, anytime, any device access they have come to expect. More robust technology means that our Member-facing people will be able to spend more time getting to know our Members and provide personalized, tailored advice. This high-tech transformation will enable the high-touch elements that will be a real differentiator for DUCA.
In the meantime, an enormous amount of work continues to be carried out by dedicated teams at DUCA to ensure that this complex project is brought to completion.
As we've been doing more to enhance our technology foundation for years to come, we haven't forgotten about the physical infrastructure that supports our 'high touch' approach and is also a reflection of the overall evolution of DUCA.
During the year, DUCA moved its head office location to new premises on Yonge Street. The new office location has allowed us to accommodate a growing team and the open, updated space is helping us collaborate and communicate more efficiently and effectively.
Our new office is also a central gathering place for our people from across DUCA. When hosting employees for training sessions in the new Community Room, or welcoming Branch Managers to our office for their regular meetings, this new space better reflects the high-touch, high-tech organization DUCA is becoming, and our employees feel this exciting evolution every day in our new surroundings.
We also continue to invest in the most important touch point with our Members – our branches. In 2019, Etobicoke, Orangeville, and Guelph were redesigned according to DUCA's new branch concept that encourages Members to seek advice and talk about their needs in a comfortable, inviting space.
Engaging Our Employees
A positive, purpose-oriented organizational culture is the foundation of DUCA's success in the future. And our values are the cornerstone of a strong culture.
As we work towards implementing our high-touch, high-tech business model, these values and behaviours will help to strengthen our human touch, which will be our ultimate differentiator as a financial services provider.
In 2019, we introduced DUCA's new set of core values and behaviours that will help us all live our purpose every day inside DUCA.
We chose our values using a collaborative process of engagement with our Employees. We compiled and reviewed data, held working sessions, came up with ideas, reviewed and revised, discussed and debated, and ultimately came up with a set of values and behaviours that we all believe will help us live our purpose every day inside DUCA, and will help us be the best we can be for each other, and our Members.
Our Values:
Do More: Bring out the best in others
Be More: Do what's right even when it's difficult
Achieve More: Make what's possible happen
These values are an important step forward in our culture evolution, and they will contribute significantly to DUCA's bright future, as we continue to grow and bring the DUCA difference to more people across Ontario.
We want to put the best versions of ourselves in front of our Members, and these values will help us all be our best. They help us do more, be more and achieve more ourselves – so that we can help our Members do the same.
Our values also drive our passion for our mission and our engagement in our Credit Union. In our most recent Employee Engagement Pulse Survey conducted in Q3 2019, we had a terrific response rate of 90%, which speaks to how much our employees really care about making our Credit Union the best it can be. Although we saw tremendous progress and an upward trend on our overall score, we will continue to work to measure and understand what we are doing well and where we can focus our efforts to make DUCA an even better place to work.
As we grow, we continue to look at new and innovative ways of adapting our organization as it continues to develop. This is why, in order to enhance and encourage better, more efficient communications within DUCA, we've completely revamped our intranet. Now, our new online communication and collaboration space, OURDUCA, makes it easier for the DUCA team to access information, and will help the team stay connected – no matter what role a team member has, or where they work. It's a place for all DUCA Employees, and that's precisely why we decided to call it OURDUCA.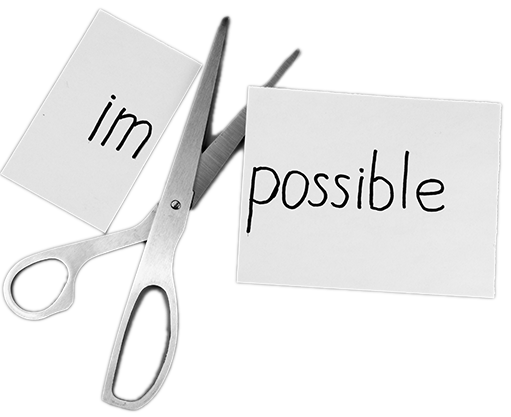 DUCA Impact Lab
At the end of 2018 DUCA Credit Union established the DUCA Impact Lab as a registered charity and non-profit innovation lab that seeks to solve problems and create opportunities for people and businesses and to build banking that benefits all. The addition of the Impact Lab is an important extension of our history at DUCA Credit Union and will play an increasingly important role in DUCA's mission to help people and businesses do more, be more and achieve more with their money and their lives in the coming years.
Over the course of 2019, the DUCA Impact Lab made important strides in this mission over its first year of operation, such as establishing its core lending pilots, launching the DUCA Impact Lab 'Sandbox' and launching Canada's first study into perspectives on fair banking which compared the perspectives of both financial institution employees with those of Members and banking customers.
Many of us take for granted the ability to borrow at a reasonable rate, whether it's to buy a car, a home, or to tap into a line of credit in an emergency. But what if you didn't have access to that? For many people, that's their reality. For these individuals, solutions such as payday loans, credit cards and other forms of high cost debt create a long-term debt trap that can severely impact their financial health. The Impact Lab wants to help people get out of that dangerous downward spiral of debt, and our impact financing for credit-challenged people involves a collaboration with our partners Credit Canada Debt Solutions, Learning Enrichment Foundation, a financial technology company -CACHEFLO and Equifax.
The pilot provides tools to better manage personal cash flow and control spending. It also provides access to affordable credit offering an innovative pricing structure, to tackle the root causes underlying the use of risky forms of borrowing. With the addition of Equifax as a partner, the pilot also provides an opportunity to improve credit scores so that participants can better access mainstream financial services.
When it comes to helping underbanked entrepreneurs, the Impact Lab has launched an initiative that focuses on invoice factoring to deliver greater access to working capital, which helps improve young businesses' cash flow. Access to financing plays an important role in the success and growth of a business, especially for start-ups. Yet start-ups very often struggle to obtain the financing they need. With our partners FundThrough and the School for Social Entrepreneurs, the Impact Lab wants to change that, and help these young businesses thrive. In 2019 the Impact Lab provided $136,917 in working capital financing through a low cost and accessible invoice factoring pilot. By the end of 2020, we are on pace to provide nearly $350,000 in such financing since the start of the pilot.

Profits with A Purpose
DUCA's 'profit with a purpose' philosophy means we are committed to striking the right balance between generating a strong financial return for our Members and creating a positive impact on our communities. This is another way that DUCA lives its mighty purpose of helping people, businesses and communities do more, be more and achieve more. Whether it be through leading commitments such as becoming the world's first B-Corp certified credit union, through our Community Hero Mortgage program, or through the DUCA Impact Lab, the impact we have on our communities is a central focus for everyone involved in the Credit Union.
Another important way we contribute to communities is the philanthropic investments we make. Below, we are pleased to provide a summary of the contribution made in 2019, along with a couple of key highlights from our philanthropic work.
Community investment at DUCA in 2019 was driven primarily by a continued investment in the DUCA Impact Lab and our continued support of the Community Hero Mortgage program with Habitat for Humanity in the GTA. Overall, our community investment total was up to $520,556, an 11.56% increase over last year.
One of the key contributions to the community made by DUCA since 2016, is our Community Hero Mortgage Program. In 2019, mortgages held by DUCA Members contributed another $100,000 towards creating affordable and safe housing for families in the GTA. The program has now provided homes for four families and represents a mortgage portfolio of over $150 million.
DUCA is also a proud supporter of the CU Succeed bursary program offered through the Ontario Credit Union Foundation (OCUF). Every year, Members of participating credit unions are eligible to apply for bursaries of up to $3000. Bursary recipients are selected based on two main criteria, financial need and how they give back to their communities. Awards are available to any post-secondary Ontario student under 25 who pursing an academic, vocational, or technical program in Ontario.
In 2019, five DUCA Members were awarded bursaries through the CU Succeed program.
| | | |
| --- | --- | --- |
| Jeraj, Natasha | DUCA | $2,500 |
| Meli, Caterina | DUCA | $1,000 |
| Navarro, Jose | DUCA | $2,500 |
| Sedlezky-Anselmo, Portchia | DUCA | $2,000 |
| Xu, Justin | DUCA | $1,000 |
Building more
for our members
and our future
Financial Snapshot
2015
2016
2017
2018
2019
1.0
Key Financial Results and Metrics ($ in thousands)
1.1
DUCA Net Income Consolidated
$2,018
$13,727
$12,974
$10,996
$12,032
1.2
DUCA Net Income excluding ZBC
$9,642
$11,541
$12,183
$10,996
$12,032
1.3
ROE excluding ZBC
9.27%
7.63%
7.85%
7.20%
5.78%
1.4
CER excluding ZBC
62.82%
63.32%
68.47%
72.14%
82.71%
1.5
Leverage Ratio
6.64%
6.65%
6.26%
5.36%
7.32%
1.6
Risk Weighted Ratio
12.63%
12.28%
12.23%
11.82%
16.50%
1.7
Liquidity Ratio
15.02%
20.40%
15.39%
16.70%
12.21%
2.0
Balance Sheet Performance ($ in millions)
2.1
Assets
$2,283
$2,476
$2,776
$3,374
$4,056
2.2
Loans
$1,984
$2,064
$2,423
$3,007
$3,507
2.3
Deposits
$1,791
$1,869
$2,027
$2,559
$3,005
2.4
Securitization Debt
$329
$435
$536
$630
$605
2.5
Regulatory Capital
$152
$165
$174
$181
$297
3.0
Earnings Performance ($ in thousands)
3.1
Net Interest Income
$36,581
$44,378
$48,060
$49,745
$49,026
3.2
Non-interest Income excluding ZBC
$10,393
$7,229
$8,650
$6,988
$17,350
3.3
Loan impairment charges
$2,899
$2,363
$(417)
$(320)
$(462)
3.4
Operating Expenses excluding ZBC
$29,508
$32,679
$38,827
$40,930
$54,902
3.5
Pre-tax income before patronage excluding ZBC
$14,567
$16,565
$18,300
$16,123
$11,936
Download Financial Statements PDF
Achieving more in our community
DUCA Response to COVID-19
DUCA response to COVID-19
The end of 2019 saw the introduction of what would evolve into a global pandemic: COVID-19. The repercussions in terms of personal health, business, and the overall economy, are still unfolding at the time of this report.
Early in March 2020, as we were closely monitoring daily reports from both government and health officials, DUCA moved quickly and decisively to facilitate uninterrupted delivery of our essential service to Members. Above all was awareness that we must implement new protocols for the health and safety of our Members, employees, and communities.
DUCA is prepared
Your Credit Union's Emergency Response Team implemented actions that are prescribed under our pre-established Business Resilience Plan (BRP). The BRP was developed specifically to address such crises, should one occur. The team quickly rallied by developing action plans to protect the health and safety of our Members and Employees and to ensure the credit union was prepared operationally and financially, to manage the evolving circumstances.
Within days of implementing the Business Resilience Plan (BRP), DUCA began to roll out the following:
• Work from home protocols: Early on, all employees capable of working from home were encouraged to do so. Thanks to the BRP mapped out in advance, DUCA had the right technology in place allowing us to pivot to a broad-based work from home protocol quickly and relatively seamlessly.
At the time of this report, DUCA Employees use videoconferencing to ensure they stay in touch and on track.
• Health practices in branches: DUCA provides its Members with essential, daily banking services, as such it was important to quickly implement procedures, protocols and precautions to protect the health and safety of our Members and Branch Employees to continue to deliver the DUCA difference. Some of the steps we took include, installing plexiglass dividers at Member Service Representative desks and in the branch offices to provide additional physical distancing supports to protect Members and Employees as transactions are completed. Also, Branches undergo deeper cleanings and hand sanitizers are available at Branch entrances. Upon arriving at a branch, posters reiterating the need for distance and other safety measures are clearly visible. Branch employees, coached on healthy practices, may choose to wear face masks and/or gloves.
• Creation of satellite Member Connect locations: Members rely heavily on our Member Connect call centre which is, for all intents and purposes, a "phone-in" branch. Not surprisingly, when Canadians were advised to stay home and reduce public interactions, calls to Member Connect increased. In fact, DUCA encouraged Members to use alternate methods of banking such as our Member Connect.
To handle an increasing number of calls while responding to changing foot-traffic patterns into some of our Branches, we have created Member Connect satellite locations. Examples of this include the Burlington and Toronto/CBC branches. Due to significant drops in Member visits to these branches combined with higher call volumes, they have been temporarily closed for walk-in visitors but have been repurposed as fully functional Member Connect centres. In addition, a number of branch employees (who are already experienced in Member assistance and communications) were deployed to Member Connect, thereby expanding Member Connect's capacity to handle higher call volumes.
• Alternate methods for everyday banking: As a precaution to protect Member health and safety, and consistent with government and public health guidelines, we have been sending regular communications to Members to emphasize the different ways to bank at DUCA. These messages are being sent via email, duca.com as news items, through social media postings, and on posters at branch entries.
• Regular communications. At such times, it is of paramount importance to regularly communicate with Members, Employees, partners, communities, and other stakeholders. We began this practice earlier in the month of March and will continue to communicate regularly.
We will continue to:
• Share information and promote and share health and safety practices
• We will continue to promote the multiple ways to bank at DUCA and share any further changes to protect health and safety in our branch network
• We will share what DUCA i can do to help you, our Members during these times.
DUCA is financially strong and stable
Your Credit Union is operating from a position of strength as we manage the evolving circumstances posed by the COVID-19 pandemic. How does one measure the financial strength of a Credit Union? Two key indicators that rating agencies and regulatory bodies consider include capital and liquidity.
DUCA's has significant capital and liquidity reserves.
Capital: DUCA's capital represents a financial cushion to support ongoing operations. A way to measure our capital strength is the capital ratios that our regulator, the Financial Services Regulatory Authority (FSRA) evaluates on a regular basis. One such capital ratio is the Leverage Ratio. This ratio is a comparison of a Credit Union's available capital to total assets.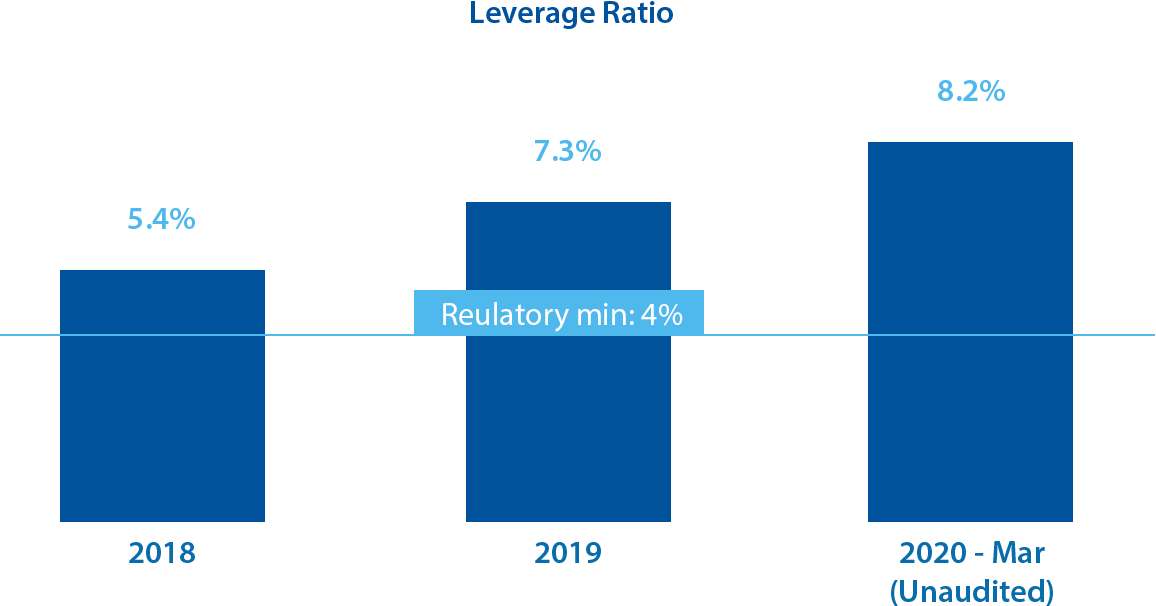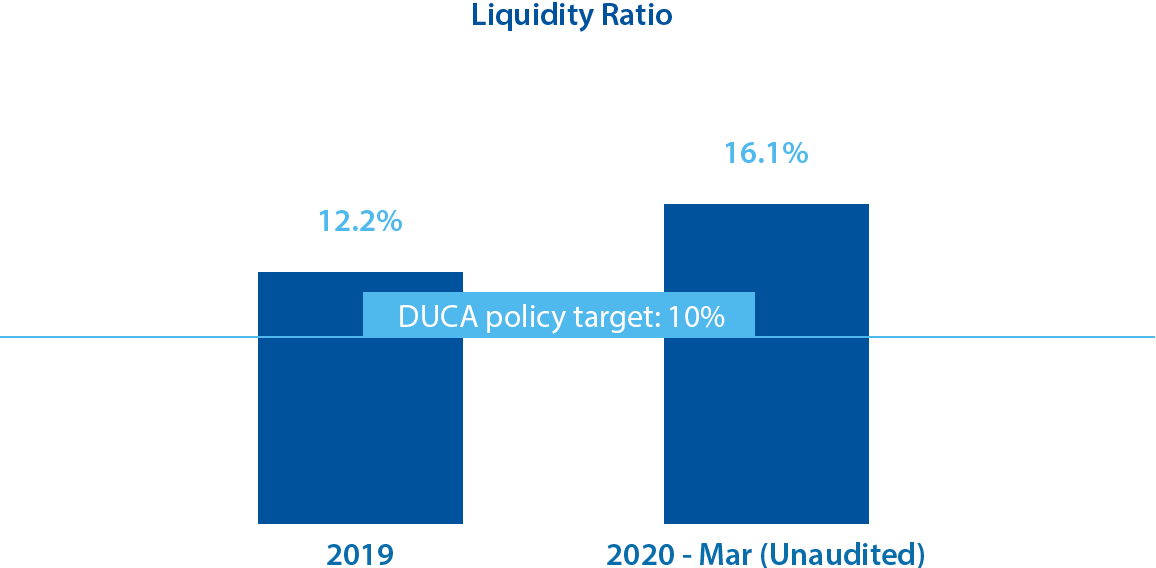 Liquidity: we monitor and manage our cash and cash-equivalent assets (liquidity) very closely at DUCA. Your Credit Union has established liquidity targets and tolerances that ensure strength and stability in funding our operations in normal circumstances and in more challenging times. As we monitored the progression of the COVID-19 pandemic we began to increase our levels of liquidity steadily and have built and maintain a substantial liquidity cushion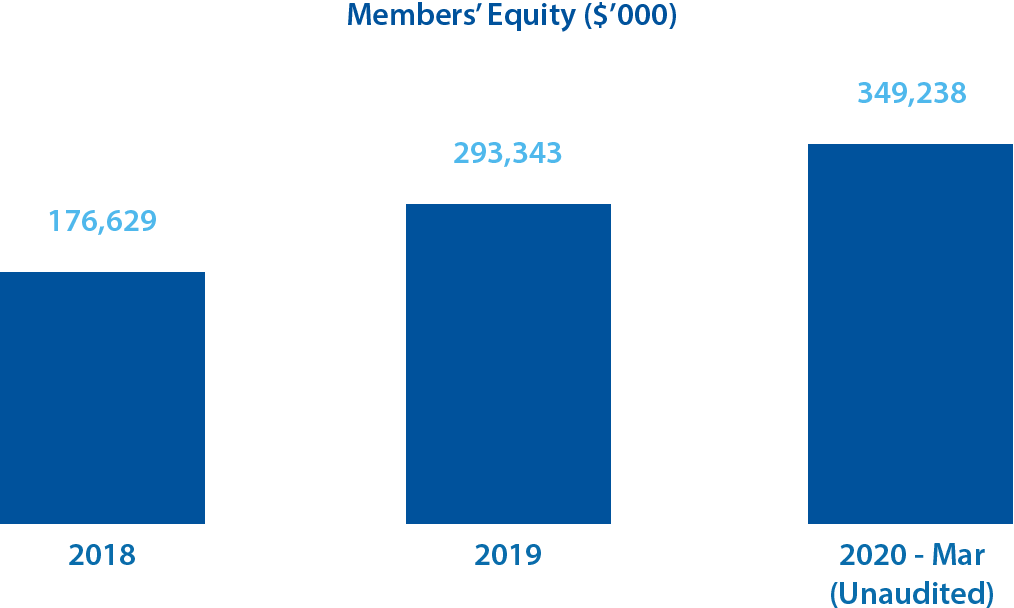 Beyond the metrics: DUCA has in place robust business resilience and contingency plans and protocols which have served us very well in adapting to rapidly unfolding events of the COVID-19 pandemic, enabling decisive and timely actions to protect health and safety and support the continued delivery of essential services to our Members. We have a strong balance sheet with high quality assets and a stable deposit base enabling DUCA to generate solid operating earnings during these times and beyond
DUCA is helping our Members & Communities
Mortgage and Loan payment deferral program
We understood early on that, beyond health concerns, COVID-19 was going to present challenges to personal finances. DUCA communicated to all Members that if they were experiencing financial difficulties as a direct result of COVID-19 which interfere with their ability to make mortgage or loan payments, they were encouraged to reach out to their Branch Manager to discuss a personalized solution. Both branch and internal staff involved in such discussions were coached on how to handle these conversations with compassion and sensitivity.
The reaction by Members granted this extension was heart-warming to all DUCA employees, offering a first-hand account of the welcome relief such consideration provided to Members already in difficult circumstances. Here are just two excerpts from Members' reaction upon receiving news of their deferrals:
"Thank you for your help to defer my mortgage payments for 6 months. I am grateful for DUCA helping me have peace of mind in this very difficult time."
"Again, thank you so much. This is our first time dealing with DUCA other than signing our mortgage papers. You have gone beyond our expectations. Please thank your manager as well."
DUCA Impact Lab
As we all deal with the far-reaching ramifications of the Covid-19 pandemic, it is impossible to ignore the financial impacts the crisis is having on individuals, families, and businesses in our communities. Just as DUCA is actively working with Members to address these issues as they arise, the DUCA Impact Lab is working with its partners and community stakeholders to help assist those who are not able to benefit from the assistance of their financial institution. The personal lending pilot and working capital pilot for under-banked entrepreneurs have both seen a significant increase in activity since the pandemic began. We expect there will be an emerging need for more of the Impact Lab's services as COVID-19 moves along.
Feedback from our community partners tells us that the DUCA Impact Lab is uniquely positioned to assist in alleviating some of the financial strain of COVID-19 and that its work is more impactful and important than ever. We are exploring opportunities to expand the scale of our pilots through partnerships with funding partners that have a shared interest. The Impact Lab is a unique way DUCA and its Members can assist even more individuals and companies to weather the current situation. We Look forward to sharing updates as they become available.
DUCA would like to thank all front-line essential service providers – health care workers and others, who are doing such important work during the challenging circumstances posed by the COVID-19 pandemic. We also wish to thank DUCA's Employees, Leadership Team, Board of Directors, and our Branch and Member-Connect (call centre) Employees for their commitment in protecting the health and safety of Members, Employees, and Communities while continuing to provide service to our Members.
We extend our well wishes to you, your families, and our fellow citizens for health and well being during these unprecedented times and beyond.